5 Things You Can Buy Right Now to Make Great Food (One of These You Probably Have Already)
There are five—and only five—tools I use every day to make great food: a pressure cooker, a knife, a cast-iron pan, a stainless steel skillet, and a dutch oven. That's it. Of course, I use other tools as well, depending on what I'm doing and how much time I have, but these are the only "gadgets" I sling around the kitchen: EVERY. SINGLE. DAY. So I'm picky about how they perform.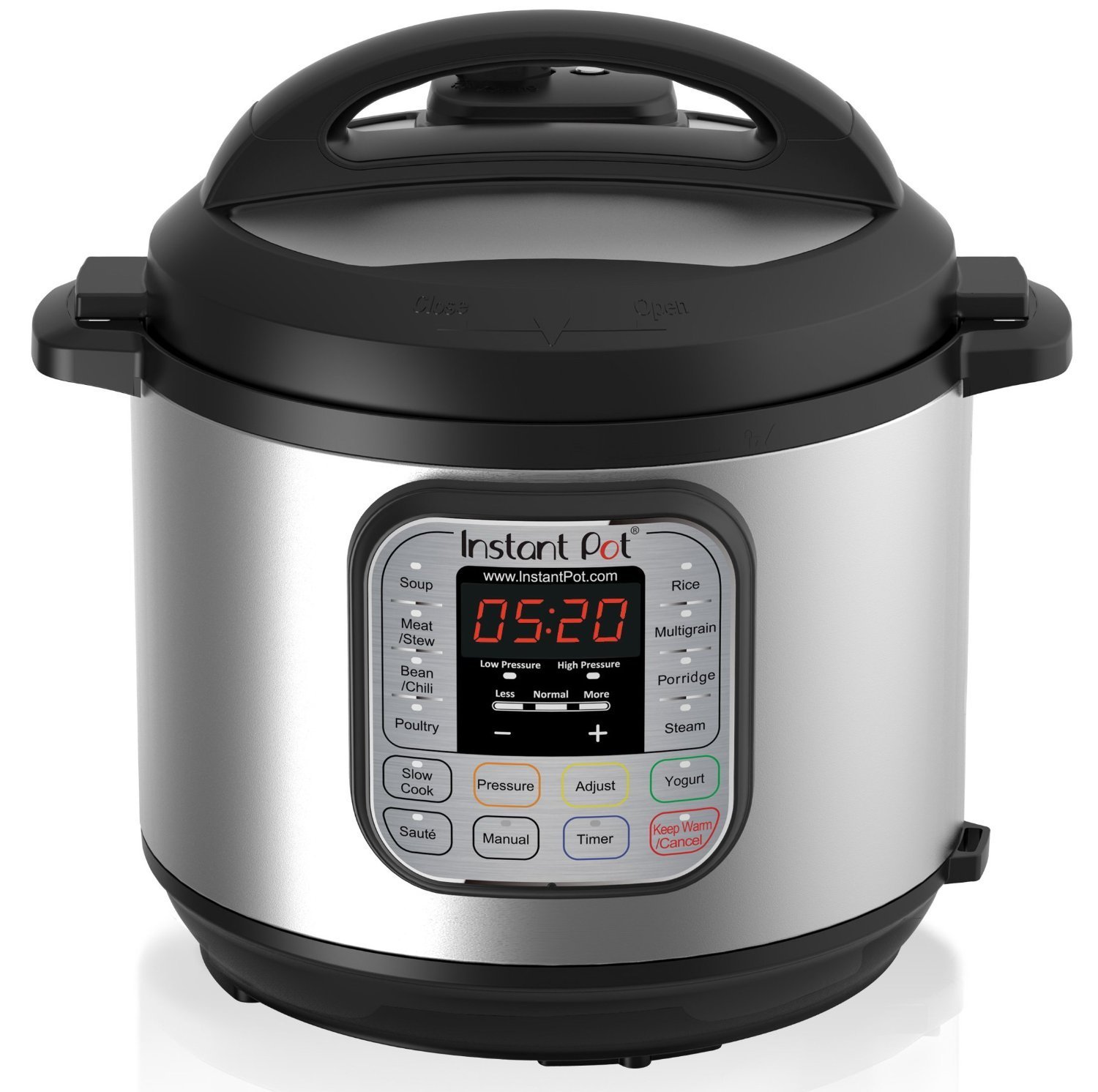 This morning I used this thing to make rosemary-garlic lentils in the time it took me to take a shower. Bam! I love my Instant Pot.
I have used it to go car camping and make chili, soup, noodles and "baked" potatoes.
I have used it to save the day when I forgot to put sweet potatoes in the oven ahead of time. (No worries. They can be done in 15 minutes.)
I have used it to save a few starving basmati addicts (my children) with rice ready in 8 minutes.
And I keep finding new uses for it. Because it's more than just a pressure cooker...
It's also a slow cooker (crockpot), a yogurt maker, a steamer, a warmer, a saute/browning device, and more. That's why it's called the "9-in-1 Multi-Functional Cooker", I suppose.
I just call it awesome.
The toxicologist in me really likes the fact that it has a thick stainless steel cooking pot instead of some non-stick nonsense with poly- and perfluoroalkyl substances (PFAS) that can wreak havoc on the body and the environment.
Of course, I was intimidated by all the buttons at first, but then I was pleasantly surprised by how quickly I figured them out (I never did figure out how to change the time on my VCR before it went into the dustbin of history, did you?).
Cooking with high pressure reduces cooking time by up to 70%. If that sounds too aggressive to you, don't worry. There's a low pressure setting to avoid overcooking delicate food.
Friends, just go buy this. If you don't cook, you can now. You won't be sorry.

We eat a ton of veggies at our house, which means there is a lot of chopping, slicing, dicing, mincing, fencing (just kidding), and julienning. So I need a very sharp knife that fits my hand to prevent wrist fatigue.
There are many wonderful knives out there, but I've settled on the Wüsthof Classic 8-inch Cook's Knife because it just feels right. I have fairly small hands and the heft and fit of the Wüsthof is perfect for me.
The blade itself passes through onions, carrots, and celery like they're made of air.
The only downside I can think of is that you have to hone this knife frequently to keep it true. But maybe that's because I use it like a lawnmower. Anyway, I think it's worth buying a honing steel. Using a dull knife is more dangerous than using a sharp knife, because a dull knife is more likely to glance off your intended target and nip your fingers. (You're lucky if that's all it does.)
Constant honing is key. Plus it sounds cool. It makes you feel like you know what the hell you're doing in your own kitchen.
Watch Evan Hendrix and I demonstrate knife honing on Kitchen Voyeur: Knife Skills 101,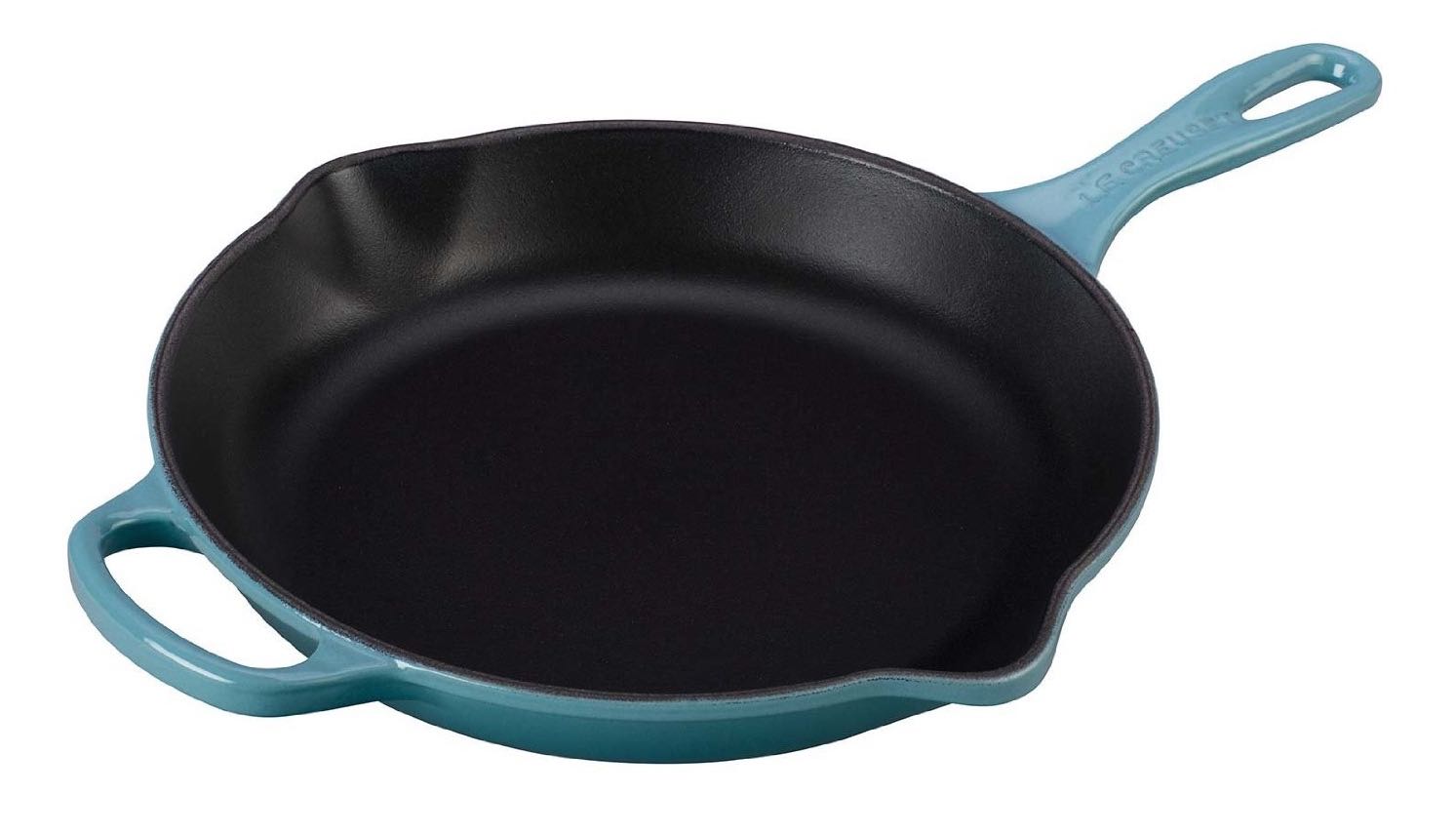 I'm a stovetop man; I'm constantly doing sauces and braises. So I want a good sturdy pan with all the deep penetrating heat characteristics of cast-iron. But I don't want the pan to be so heavy that it breaks my wrist every time I pick it up. The Le Creuset 10-1/4 inch is my Goldilocks solution: not too heavy, not too light, just right. It even has little spouts on the side for pouring off liquid.
At first I thought it was going to be too small, but it's not (I have a completely different kind of pan I use for the really big stuff anyway).
As for food sticking to the pan, I have not found this to be a problem, but then, I am not afraid to use plenty of heat-stable cooking fat. If you wash the pan while it's still warm, it cleans up easily with soap and water (just make sure you dry it thoroughly; iron will rust).
Last night I used this pan to braise chicken thighs and then brown them in the oven—all in the same pan. Then I served it in the pan, as a family-style table setting. You can do that with cast iron. On the stove top, in the oven, or on the table; it just works.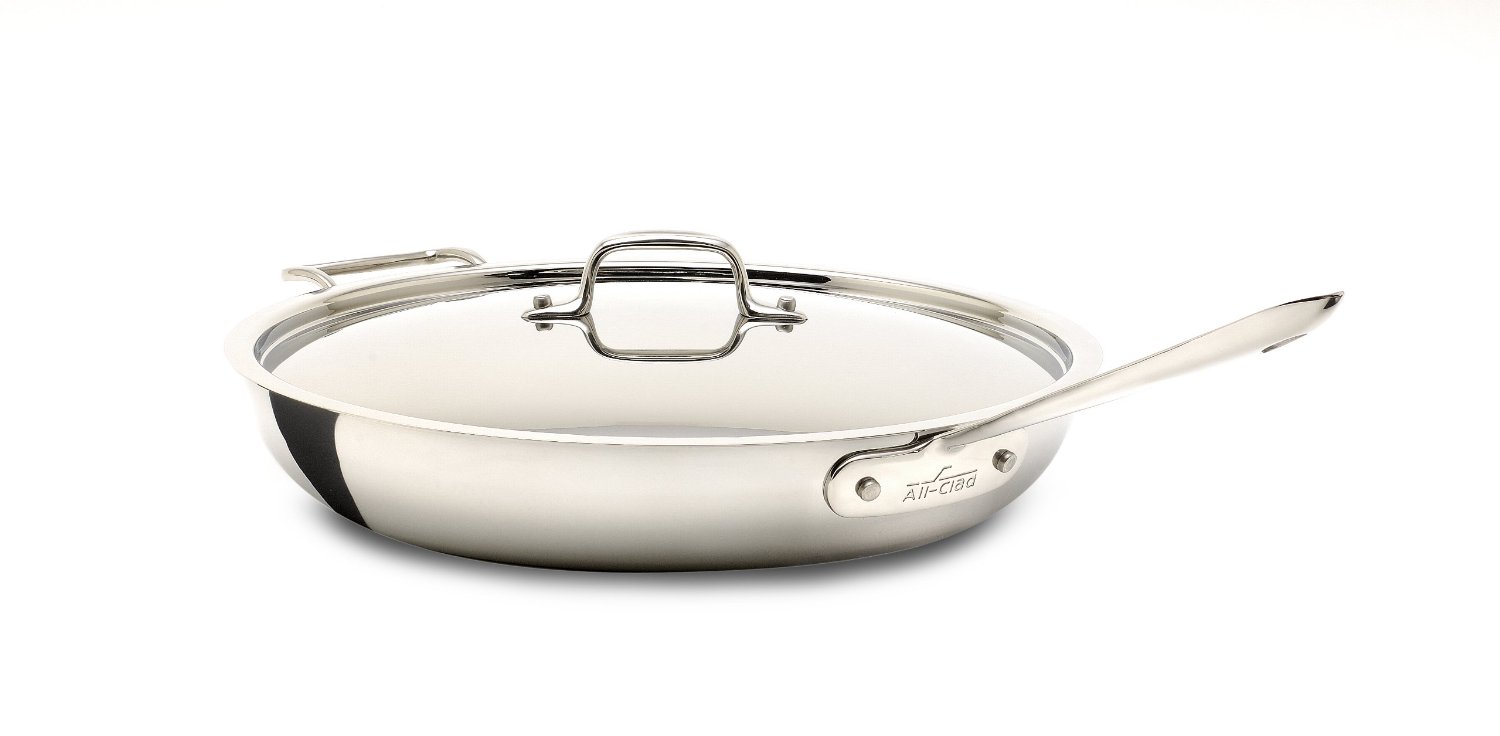 I sauté my greens like a farmer stacks his hay—in great fragrant piles, tall and teetering. That's why I need a 13-inch pan. Collards, Kale, Beet Greens, Spinach, Arugula, you name it. If it's green, it's going in.
I recommend you get this pan with a lid, so you can, well, keep a lid on it—so you can tame your leaning tower of greens, while it slowly melts under gentle heat. I strive for 9 cups of veggies a day. 9 cups. That's a lot. Sautéing is a flavorful way to pack them all in. I can think of no better pan for large batches than this one. It's surprisingly light for its size and easy to carry. When my kids see me coming with this big silver pan out in front of me (like my own Captain America shield), it puts the fear of God in them. I can almost hear the tumblers in their heads clicking, O.M.G., the greens are coming for us...
Okay. This is the Big Kahuna. This one will break your wrist, unless you use both hands. And when it's hot, be careful: cover your hands with oven mitts, unless you want to burn a life line across your palms the size of the Marianas Trench.
That said, I can't live without this cauldron. It's my broth machine. Bone broth. Veggie Broth. Bone & Veggie Broth. Stew. Chicken in a pot. Braised short ribs. Unbelievable carrot soup. Perfect brown rice. Perfect wild rice. It's going all the time. I mean it's hardly ever cool, really. Once you get into the habit of using a dutch oven to seamlessly bounce back and forth between your stovetop and your oven, you'll never go back to standard crockery.
A dutch oven gives you more control than a crock pot does (no offense to my Instant Pot), because you can take advantage of either convection or conduction, either air or water—for the same dish—just by taking off the lid and putting the whole thing in the oven, where the top layer of whatever you're cooking can develop some browning and a more complex flavor profile, the kind of flavor profile it would never develop if you just left it covered in a crock pot. There's a reason why this old-school way of cooking has never gone out of style. Getting a dutch oven and learning how to use it has been a revelation to me, a revolutionary flashback to a time when people just knew how to cook yummier things somehow—because there was less technology in the way. (Watch Evan and I demonstrate low-tech braising).
So that's it. Now you know all my secrets. I'm naked. This emperor has no fancy clothes (except for my pressure cooker, I guess). Just good old-fashioned tools for good old-fashioned great food.
And now, I have made myself so hungry writing this post, I'm dizzy. Have a very Merry Christmas each and every one of you. May it be delicious, bonding, and healthful! I'll see you on the other side.
Yours in Health & Resilience,
Marc Wagner Nutritional Therapist, MD
Affiliate Link Disclosure: This website contains affiliate links, which means we may receive a percentage of any product or service you purchase using the links in the articles. You pay nothing extra for any product or service, and your purchase helps support Dr. Wagner's ongoing research and work. Thanks for your support!