That time when you discovered that you are braver than you knew...
When you've shared the same roof, the same bed, and the same life with someone for over 20 years, you've probably also shared some of the same toxic exposures and pathogens.
My wife, Janine, recently tested positive for many of the same health-robbing toxins and critters that have knocked the wind out of me. But she's not taking it lying down. She just handed me her manifesto for flourishing anyway.
Here, she gives me permission to share a sliver of her story: her determination to flourish and her discovery that she is braver than she knew...
---
Flourish Anyway
by Janine Wagner
This picture was taken at my surprise birthday party when I turned 40. (Thank you Angie!)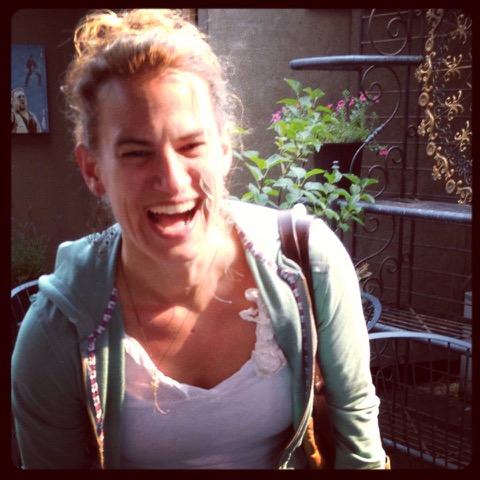 I thought I was meeting one friend but they were all there, 12 sweet souls showed up for me. I was shocked and humbled and overjoyed. It was decorated so adorably.
I have learned a lot about myself since I turned 40. Some things I've known a long time but other things are just becoming clear. Something woke up in me recently, a desire to live fully awake--in spite of diagnoses, in spite of setbacks, in spite of everything. Courage to face my fears and pursue my dreams. As my birthday is approaching I have been reflecting on the last 3 years since I turned 40. I'm amazed at the courage I've had despite my heath challenges. I'm braver than I knew.
I went back to school and took classes about social justice because it interests me.
I started Justice Jars to raise money for Charity Water and a trip to Africa.
I insisted we get a dog who has loved on us unconditionally and helped my sweet girl get over her fear of dogs and so many other things.
I've homeschooled my kids for 2 years and learned so much! (And they have too ; )
I added chickens to our family so we could have our own organic pastured eggs.
My daughter and I went to Kenya last January and I took pictures again with my real camera. (I felt more alive on that trip than I have felt in long time.)
My son and I just got back from Kenya last week. It was an amazing trip and an incredibly bonding time with my son who will become a teenager this week!
I have started to use words and believe that my beautiful messy complicated story matters and that is why I am writing.
I'm not always very open about my struggles, but for most of the last 2 decades I've lived with mental illness and chronic fatigue. Over the last several years I've also struggled with Candida, SIBO, headaches, brain fog and inability to handle stress well. In the last few months I discovered I have heavy metals, mycotoxins and mold in my body. To top it off I tested positive for Lymes disease last week. It's been a crazy journey but I'm honestly incredibly hopeful! God has brought some amazing people into my life that are helping me heal and its such a relief to have possibly figured out what has been causing all these symptoms.
I don't know about you but I'm choosing to flourish!
A few things I know to be true about me: I'm a blessed mom, committed wife, people lover, world traveler, beauty seeker and light chaser.
Thank you dear friends who have believed in me when I didn't, who encouraged me and prayed for me when I struggled. You have brought me so much hope and joy!
Love and hugs,
Janine
---
When you can't stand one more...
When you can't stand one more diagnosis, when you can't stand one more piece of bad news, start taking stock of the good news. Who knows, you may find that you are braver than you knew, that you are and always have been, determined to flourish anyway.
Warmly,
Marc Wagner, MD
P.S. Stay tuned for a series of long-form posts that will tell the whole story of how Janine and I got sick from multiple toxin exposures and lyme disease and exactly what protocols we are following to turn it around.
Cover Photo by Jesse Uli on Unsplash