Recipe: Gluten-Free Wild Blueberry Cobbler.
Food! This week I have a delicious and wholesome cobbler for you that will help you get the blue/purple/black phytonutrients your body has been craving.
But before we dig in and say bon appetit, I want to take a moment to discuss your sourcing options for blueberries.
Stick with me on this. I think you'll be interested to see how your health may be bigger than you.
Conventional Blueberries aren't dirty enough to make The Environmental Working Group's Dirty Dozen List. But neither are they clean enough to make the Clean Fifteen List. So, the organic vs. conventional debate is not clear cut here. But in my view, choosy omnivores may still want to choose organic, if for no other reason than pure simplicity.
Because here's the deal, if you choose conventional blueberries, then you still have to make another decision: domestic or imported? I know, it's beginning to sound as bad as buying a car. But consider this. At last count, domestic conventional blueberries were found to have nearly twice as much pesticide residue as imports.
It seems we are still having a bit of a problem with the whole "made in America" thing. At least when it comes to conventional farming. Perhaps that's because advocates of chemical farming speak more persuasively in the US, where they have their financial headquarters and plenty of investors running around saying such nice things about neurotoxins.
More ominously though, it could just be that we've been using pesticides both longer and more systematically in the US than anywhere else in the world. We're ahead of the curve, so to speak. And like any addicted bio-system, our system is requiring more and more juice to kill the same pests and more and more fertilizer to extract the same yields. Meditate on that for a moment. Run your own mental simulations of the future of food. Then choose.
Okay, breathe. Dystopian exercise over.
Here's how you can get around the whole thing and go one better. If you really want to maximize your nutrition then simply choose wild blueberries. Not only are they more nutrient-dense, they also have a lower glycemic load. Omnivore's dilemma solved. Planet saved.
Wild blueberries have a superior nutrient/sugar ratio--more nutrients, less sugar. To me they taste just as sweet as cultivars. And as nature would have it, they are pesticide-free by definition.
Don't be put off by the small size and almost black color of wild blueberries. When it comes to berries, this is what good-for-you looks like. By contrast, the largest and palest blueberries are the least nutritious.
Enough talk. Let's eat some cobbler.
Ingredients:
1 bag of Wild blueberries
1 cup Macadamia nuts
1.5 cup Pecans
1/4 cup Medjool Dates, pitted.
1/2 tsp Cinnamon
1 Tbsp organic Lime zest
Sea salt to taste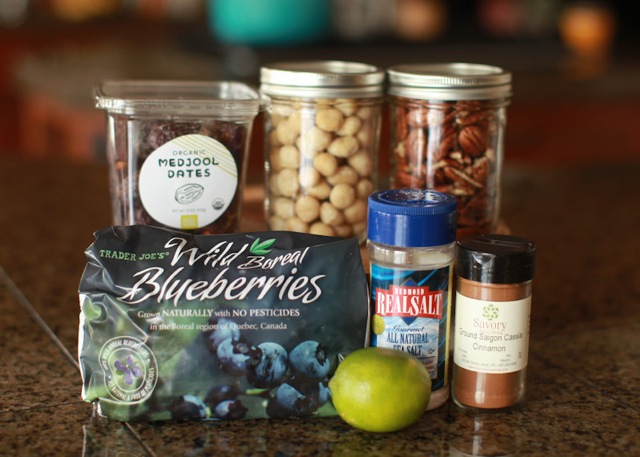 Instructions:
All the credit for the Macadamia Pecan Lime Zest Crust goes to our friend Amie Sue, who runs the most beautiful raw-food blog in the world at nouveauraw.com. Please visit the above recipe link to view her simple preparation instructions.
Once you've made the crust, you're 90% done.
Now just pour the wild blueberries into a baking dish and generously cover them with your crusty crumbles. (I like a lot of crust here. And that's good. Macadamia nuts are full of healthy monounsaturated fats, which lower the glycemic index of this dessert even further and provide other cardiovascular health benefits as well.)
You're on the home stretch now.
Bake this baby at 350 for 20 minutes or so, until brown. Or just eat it raw. Enjoy!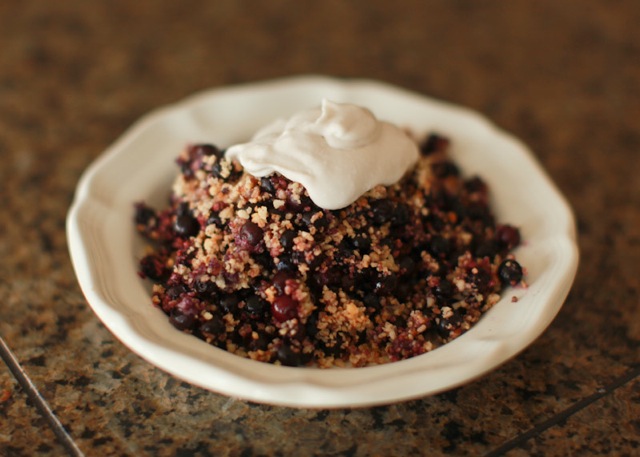 Yours in Health and Resilience,