Local Artisanal Products...From Oregon With Love.
I'm so blessed to live in a region that has a strong local food system. Oregon was recently rated #4 in the country for best places to eat local.
In this giveaway, nine local vendors have generously donated some amazing hand-crafted products for you to sample. I'm so excited to share the love from my own neck of the woods (suggested retail value $156.35)!
But don't dally; the contest ends September 4th, 2015, 11:59:59 PM Pacific Time.
You can enter the giveaway multiple times and in multiple ways (hint: sharing with your friends gets you the most entries!)
CLICK HERE: BioFlourish Goodie Basket Giveaway
(Apologies to international readers: Products will only be shipped within the United States.)
So what's in the basket? A few of my favorite things...
JEM RAW
Artisanal Nut Butters & Spreads.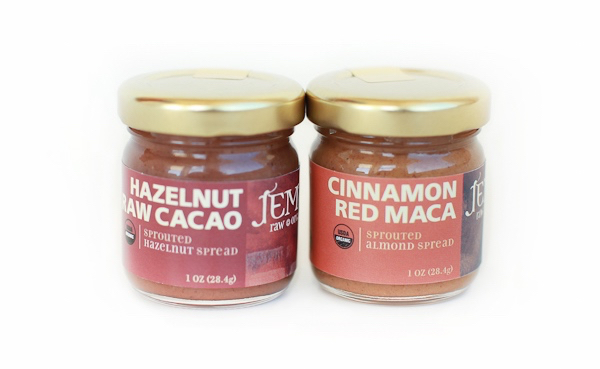 JEM Raw & Organic nut butters are my go-to sweet fix. These Artisanal spreads feature low-glycemic coconut sugar and pitch-perfect spices. Always creamy, always balanced, they are my definition of finger-licking good.
JEM's mission is "to craft premium organic products, representing the highest standard of sustainability and transparency; promoting a healthy, delicious world."
Mission accomplished.
Our basket features two of JEM's four signature products:
Cinnamon Red Maca: This butter takes the warming fire of cinnamon and combines it with the metabolic fire of Peruvian Red Maca for a flavor experience that is pungent, delicious, and satiating. Try it on a wedge of apple or on a slice of whole-grain toast. Or just on your finger (my favorite). It totally quenches a sweet tooth.
Hazelnut Raw Cacao: My wife went to school in England where "Nutella" was everywhere, for breakfast, lunch, and dinner. JEM improves on this European tradition by using raw, organic sprouted hazelnuts and cacao nibs, sweetened with coconut sugar (containing amino acids, potassium, calcium, magnesium, and zinc). Try it on a banana (or again, fingers work for me).
Check out JEM's other flavors online:
In Bend, you can find JEM at Whole Foods Market, Natural Grocers, Nature's General Store, Jubeelee, Central Oregon Locavore and many other locations.
For retail locations across the United States, Canada, UK, Chile, and Hong Kong, use JEM's terrific Store Locator.
All JEM products are free from gluten, dairy, soy and processed sugar.
Hearth Chai Co.
Orange-Infused Chai Concentrate.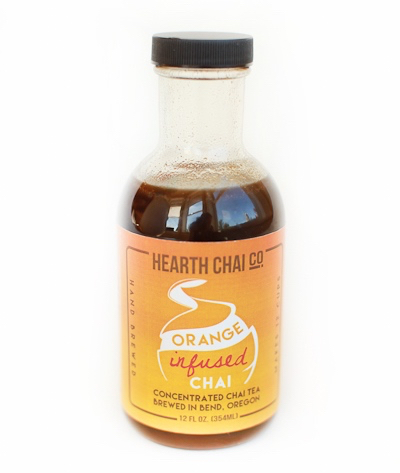 Have you ever noticed how dry chai spice packets often lack a certain something? They can come off unbalanced, with too much bite, or too much exoticness—not enough roundness.
This is because chai is a complex mix of flavors. Each spice has its own roasting characteristic. And only a chai master who roasts his spices separately and then combines them at their peak flavor can really get it right.
Enter Conner Schweitzer, founder of [Hearth Chai Co](http://hearthchai.com/home/ "link to Hearth Chai website").
Conner discovered his love for the intensity of authentic masala chai while traveling across Southern Europe & North Africa. Imagine him strolling through the spice markets of Morocco, nostrils flaring over cardamom, peppercorns, and star anise—you get the idea. Conner's chai is now so dialed and authentic that you will seriously have to weigh the risk/benefit ratio of sharing it with guests. They will take all you have. (I know this, because we just had guests and they wiped us out.) No worries, there's always more.
Hearth Chai can be obtained online at the Hearth Chai Store.
Or locally in Bend:
JUBEELEE.
Now served fresh at Dudley's Bookstore Cafe.
And there's 12 cups of Hearth Chai in this goodie basket!
BGOOD
The Healthy Artisan Energy Bar.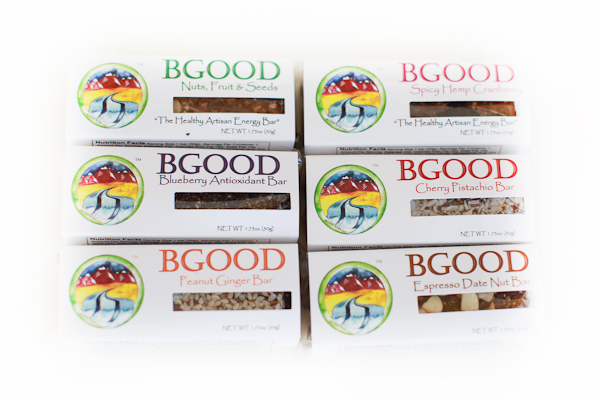 "These bars are to die for!"
That's what my wife said after demolishing two bars. Our current favorites are the Espresso Date Nut Bar, the Peanut Ginger Bar, and the Cherry Pistachio.
More than 50% of the calories in BGOOD Bars come from healthy naturally occurring fats in nuts, seeds, and flax. This gives the bars a low-glycemic index in spite of tasting sweet and it also gives them plenty of stick-to-your ribs energy—a backpacker's dream. (But maybe too good for backpacking. I mean, backpackers should be roughing it, right?)
If you're picky about the quality of your chocolate, then you'll appreciate the attention to dark chocolate detail in these bars; it's exquisite. And if you're concerned about the issue of mold or yeast in nut-based bars, then you'll be happy to know that BGOOD Bars receive an excellent score on the Water Activity Analysis from the Food Innovation Center at OSU. Maybe that's why these bars taste so fresh. Because they are.
Moist but never messy, crunchy but never crumbly, these bars have totally replaced big-name commercial nut bars at our house. The maker, Judy Goodman, has generously donated an entire box of 12 bars (6 flavors) for this giveaway.
bon appétit!
BGOOD Bars are now available at:
Always gluten-free and non-GMO.
Avery's Crackers
Tasty Almond Snacks.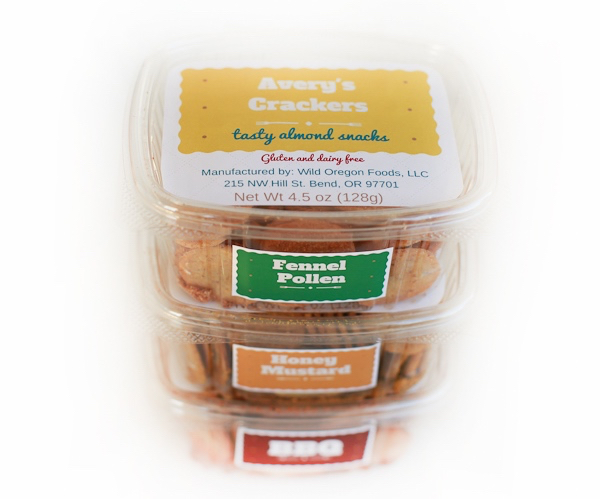 James Fink, creator of Avery's Crackers, has been a professional chef for 23 years. He even taught culinary school.
The need for a better cracker arose when Fink's 8-year-old son, Avery, developed sensitivities to wheat, dairy, and corn.
Instead of throwing up his hands, Fink balled up his fists and began pounding out a whole new kind of dough. His mission was to invent the best darn gluten-free cracker ever (because that's what his son deserved). Using a variety of gluten-free flours and some culinary verve (Fennel Pollen!), it didn't take Fink long to strike gluten-free gold.
Avery's Crackers are exceptionally good. Believe me, I've tried just about every brand out there. They come in three delicious flavors: BBQ, Honey Mustard, and Fennel Pollen (my favorite).
If you miss the basket, don't worry. You can contact Avery's Cracker Company directly; he'll hook you up. Or head down to Central Oregon Locavore and check out the new shiny in gluten-free, right off the shelf.
Avery's Crackers are gluten-free, dairy-free, and corn-free.
Paleo Eats
CROBAR.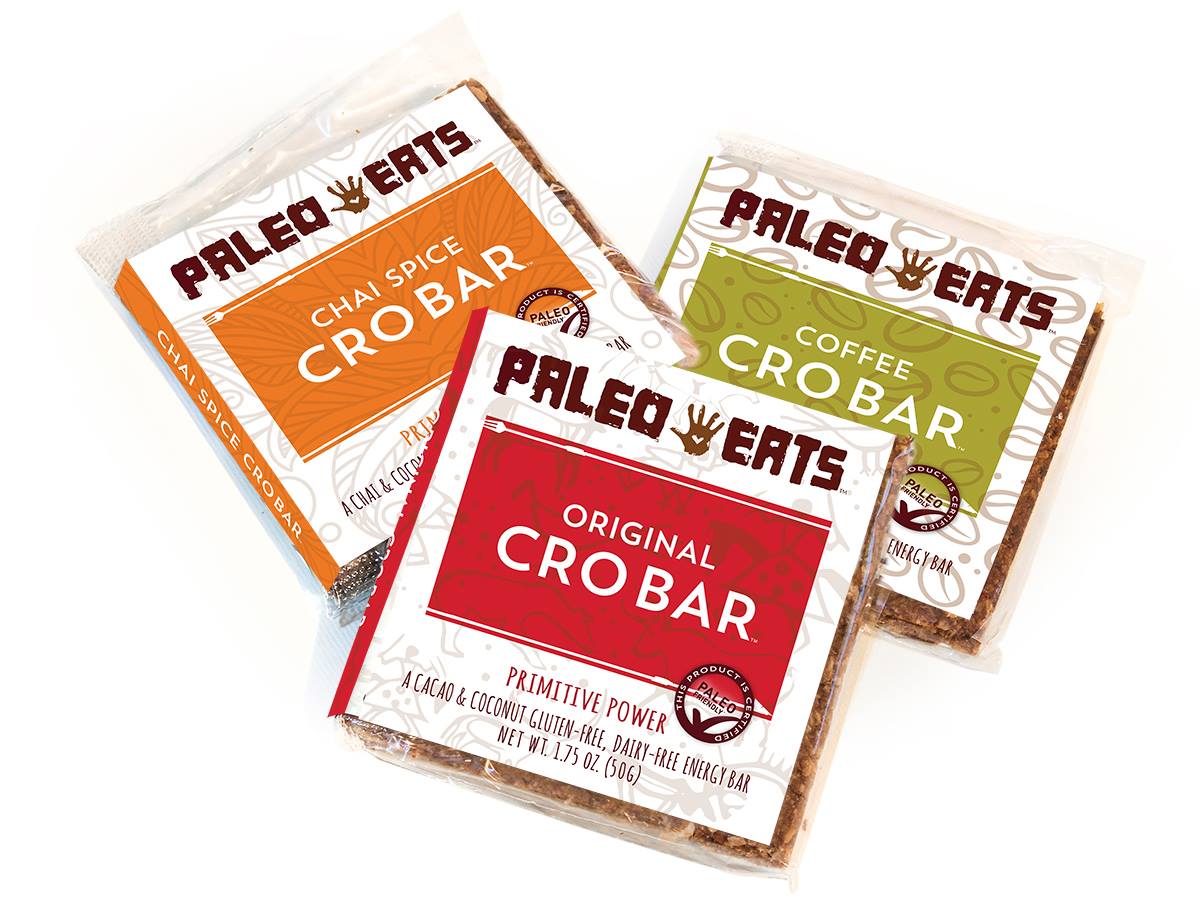 Debbie Fred is like Paleo's answer to Little Debbie. Her healthy snacks have taken the paleosphere by storm. My favorite is the Coffee CROBAR: moist, chewy, satisfying, and uplifting. A wonderful breakfast bar for the road.
Paleo Eats got its start in the fires of necessity. Debbie's kids were suffering rashes and GI discomfort from wheat & dairy. And she was desperately seeking some decent convenience foods for them. But there were few options in 2011.
What's a good mom to do? Let them eat cake?
Debbie had always loved baking, so she decided to put her passion to work on behalf of her kids.
"It was really hard to transition away from gluten-based baking in the beginning," she says.
But eventually, she nailed it. And her fan base quickly grew beyond her kids. Debbie went into business for herself in 2012 and ramped up to full time within about 18 months.
Today, her CROBAR is trademarked in all 50 states. For someone who "hated business classes in college", she appears to be having no difficulty with distribution and sales.
Debbie lives on a hay farm in Central Oregon with her husband, three kids, a brood of chickens, and a garden. You can follow her on Facebook.
CROBARS are available online at:
In Bend, you can find CROBARS at Whole Foods Market, Newport Market, Natural Grocers, Strictly Organic Coffee Co., Humm Kombucha, Central Oregon Locavore. And many, many more locations.
CROBARS have a low glycemic index and are 100% Paleo. That means no gluten, dairy, grains, legumes, wheat, corn, or processed sugar.
Mom's Nuts!
100% Organic Hazelnuts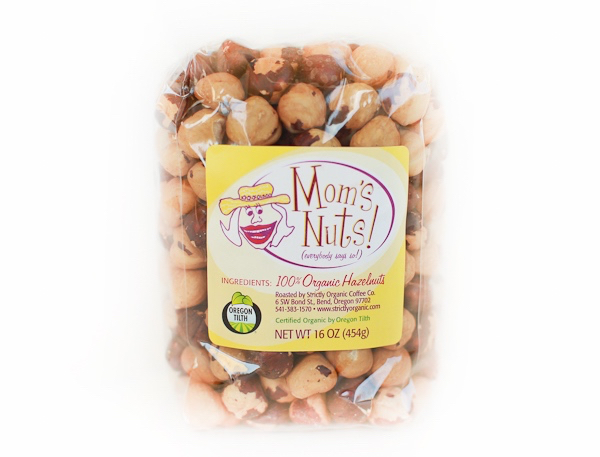 Mom's Nuts! are air roasted to perfection in Bend by Strictly Organic Coffee Roasters. They are über-fresh with the palate appeal of just-popped popcorn. We always keep a bowl full of them on the table. And they always keep disappearing.
Strictly O's founder, Richard Steffensen, grew up in hazelnut country near Springfield, Oregon (Oregon grows 98% of hazelnuts produced in the United States), so roasting and eating hazelnuts was something of a family past time. When he became a coffee roaster, Richard's mother, Betty, suggested he roast hazelnuts too. And so a cherished classic was reborn: Mom's Nuts!
Mom's Nuts! are 100% Organic, Certified Organic by Oregon Tilth. They are sourced from Meridian Organic Hazelnut Farm in Aurora,Oregon.
You can purchase Mom's Nuts! online or at multiple food retailers in Bend, including Whole Foods Market, Newport Market, and Strictly Organic Coffee Shops.
Sunshine Treats
Authentic Halva & Nutrition Bars.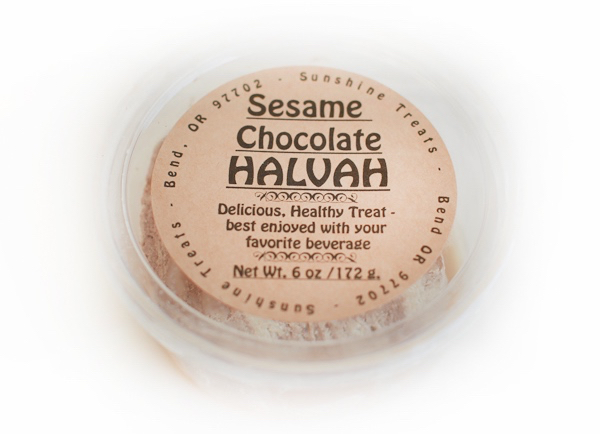 Do you even know what Halva is? I didn't—until I met Natasha Johnston of Sunshine Treats.
Natasha grew up in Krasnoyarsk, Siberia, where Halva was a rare and celebrated treat (her family could only get it from the Ukraine).
Halvah is a semi-sweet, seed-based cake that travels well. It's been around since perhaps 3000 B.C. and was used as an energy food on long nomadic treks across the Near East—the original Lembas bread, if you will.
"One or two bites can sustain you for hours", says Natasha.
Any 5,000-year-old recipe is bound to have variations. Egyptians called it halawa and often mixed it with pistachios, almonds, or pine nuts. Indians shortened the name to halva and flavored it with ghee, coconuts, and dates. Another version, made with sesame tahini (and sometimes sunflower seeds), was adopted by Ottoman-ruled Romanians, who passed it on to Ashkenazi Jews in Europe (who might just have added some chocolate). This is the version Natasha remembers most. And it's the one she pined for after immigrating to the United States in 1992.
So now she makes her own. A whole halav-a-lot.
Natasha divides her time between making Halva and playing violin in the local symphony. Her husband is an active mountain biker. To fuel his adventures, he uses both Halva and Natasha's Seed-Fruit & Almond Bars (which are a bit hardier).
You can try both products in this goodie basket. And let Natasha know how you like these old-world inspired energy foods!
Sunshine Treats Halva and Nutrition Bars are available online at Etsy or locally at Central Oregon Locavore.
Lotus Naturals
Life Blends Essential Oils: Sleep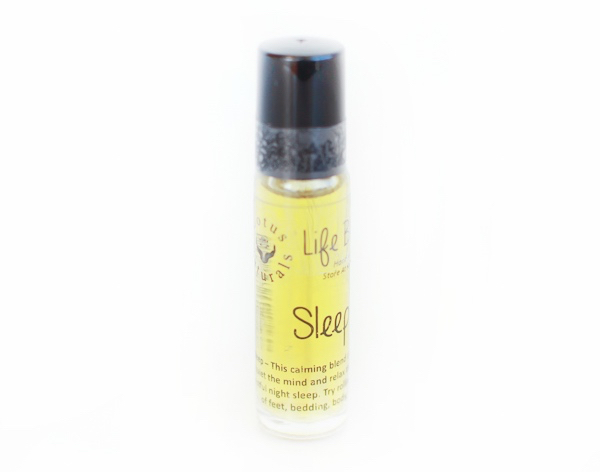 You know how fragile you feel after just a few nights of poor sleep. But you may not know how impaired you are.
Studies show that after 18 hours of wakefulness, your brain function achieves zombie status, comparable to a blood-alcohol level of 0.08 percent—the legal intoxication limit. Even worse is the effect of chronic sleep loss on depression, chronic pain, heart disease, and obesity.
So what do you do? Reach for the medicine cabinet?
Unfortunately, most sleeping pills will not help you get the restorative sleep you need over time. In fact, they may rob you of the most critical stage of sleep: Stage IV restorative sleep.
I've struggled with sleep. And I find essential oils helpful.
Lotus Naturals' Sleep is the result of intensive trial and error by proprietors Amber Coffey-Rankin and Corrie Coffey. Amber's child just would not sleep. When she finally hit upon a mixture of essential oils that helped, she (and everyone else in the house) was overjoyed. And now she's sharing her sleep-chi with you.
Sleep is a calming medley of Copaiba, Cederwood, Tangerine, Orange, Ylang Ylang, Patchouli, Blue Tansy, Sandalwood, Black Pepper, Bergamot, Juniper & Anise essential oils.
We use a diffuser at home. But Lotus Naturals suggests you might also try rolling it on the bottoms of your feet, or bedding, body, or pillow.
Lotus Naturals sources all of its essential oils from Young Living, known for its seed-to-seal quality control, and no emulsifiers.
You can find Lotus Naturals on Etsy and Facebook. Or visit their brick and mortar store downtown Bend.
T's Tonics
Arnica Relief and Sun & Skin Soother.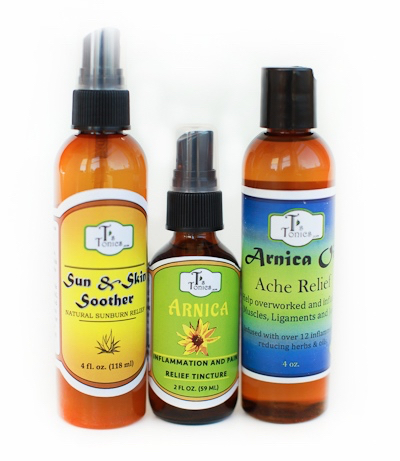 Teresa Schweitzer was an outdoor lover with sensitive skin. And she was looking for help.
But after scanning all the lotions, potions, and notions available over the counter (with their long lists of synthetics and unpronounceables), she decided to develop her own natural tinctures and oils to deal with her well-earned bumps, bruises, sunburns, and muscles aches.
Good thing, because her Arnica Oil is one of my personal favs. We've been using it as massage oil for several years. Every time we try something different we come back to it. It just smells good, feels good, and does my body good. The German nickname for Arnica means "stand up and walk home". I resemble that.
Arnica is a high mountain meadow plant well known in many parts of the world for its healing properties. It's used externally for pain and inflammation—great for bumps, bruises, and minor injury pain. The earlier after injury you apply it, the better. Think of it as your second ice pack (or your first, if you're out in the boonies with no ice). Do not use it internally, or on open wounds, or on broken skin.
The Arnica Tincture Spray is a great companion product, because it's easy to apply without having to put pressure on sensitive areas.
T's Sun & Skin Soother is marketed as a natural sunburn reliever, but it's also an effective all-around moisturizer. It feels great on my skin after sun and wind exposure (or after I've over-zealously washed my hands and turned them into scaly little claws). Sun & Skin Soother features Organic Aloe Vera, Grapeseed oil, Myrrh essential oil, Lavender essential oil, Elemi essential oil, Palo Santo essential oil, and Tea Tree essential oil.
You can find these and many other T's Tonics products online at www.tstonics.com, or head down to Central Oregon Locavore.
Email: info@tstonics.com | Phone: 541-419-1284
Summary of Goods: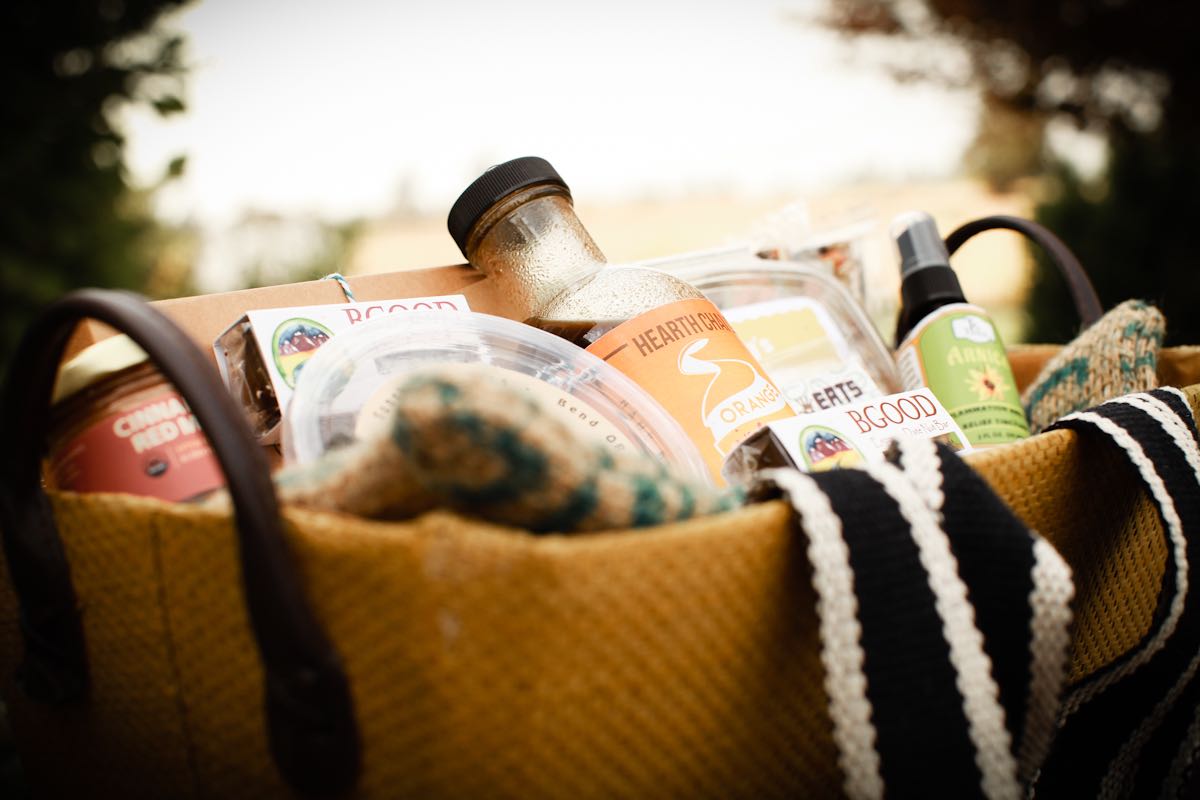 Ok, that's a lot of stuff. So let's review. Here's what one lucky winner will get in the BioFlourish Goodie Basket:
12 BGOOD Bars (2 of each flavor): Spicy Hemp Cranberry, Espresso Date Nut Bar, Peanut-Ginger, Nuts, Fruit & Seeds, Cherry Pistachio, Blueberry Antioxidant.
3 Tubs of Avery's Gluten-Free Crackers (1 of each flavor): BBQ, Honey Mustard, and Fennel Pollen.
3 T's Tonics: Arnica Oil Ache Relief, Arnica Relief Tincture & Spray, Sun & Skin Soother Natural Sunburn Relief.
3 Nutrition Bars by Sunshine Treats: Seed-Fruit & Almond.
2 Artisanal Nut Butters by JEM: Cinnamon Red Maca & Hazelnut Raw Cacao.
2 CROBARS by Paleo Eats (2 flavors): Chai Spice & Coffee.
1 Bottle of Hearth Chai (12 servings).
1 Package of Mom's Nuts! (8 ounces).
1 Tub of Halva by Sunshine Treats: Sesame-Chocolate
1 Vial of Sleep, Life Blends Essential Oil by Lotus Naturals.
That's 29 individual goodies in all, yours FREE when you win the contest (suggested retail value $156.35).
What are you waiting for? Enter to win now! Contest ends Sept 4th.