Restart Your Health in Just Five Weeks!
Welcome to RESTART®: part nutritional education, part sugar detox, and part support group—an empowering combination.
The 5-week RESTART® program is a simple, powerful way to give your body a vacation from having to process toxins like sugar.
With a 3-week sugar detox built right in, the program focuses on how to use REAL FOOD to boost your energy and cut sugar and carb cravings. And you get to do it all with my support and coaching!
Discover how good you can feel!
BENEFITS you can expect from the RESTART® Program:
Weight Loss
Increased Energy
Better and more restful sleep
Boosted immune system
Mental clarity and improved mood
Decreased anxiety
Reduced PMS/Menopause symptoms
YOU'LL LEARN:
Week 1: How to prepare for your REAL FOOD sugar detox
Week 2: Your digestive check-in
Week 3: What sugar really does in your body
Week 4: The truth about FATS
Week 5: How to move forward and celebrate your success!
SPACE IS LIMITED! To maximize our student-teacher ratio and interactive experience, I'm limiting the classroom to 10 participants.
I'm giving couples a discount, because people who live, eat and cook together are more successful when they actually live, eat and cook together. It's a built-in buddy system. Highly encouraged.
Class Details:
Sign up for my newsletter (below) to be the first to know about the next class.
Date: TBD.
Time: TBD.
Cost: $149.00 for individuals, $199.00 for couples- includes 5 classes, PDF syllabus, support materials, and access to private Facebook group.
Location: TBD
The RESTART® Program features veggies but is not Vegan; it is easily adapted to Paleo.
More About RESTART®
I'm so happy to be teaching this program in partnership with RESTART®. By limiting the class size to no more than 10 participants, we'll have an excellent opportunity for interaction, Q & A, and group support.
All five classes will be taught by me. Full-color, weekly course materials will be emailed to you ahead of time, including schedules, food journal, toxicity questionnaire, shopping lists, recipes, and more. We'll collect more recipes, suggestions, and support from each other along the way. The RESTART Cookbook is now available for purchase as well, which is a great resource.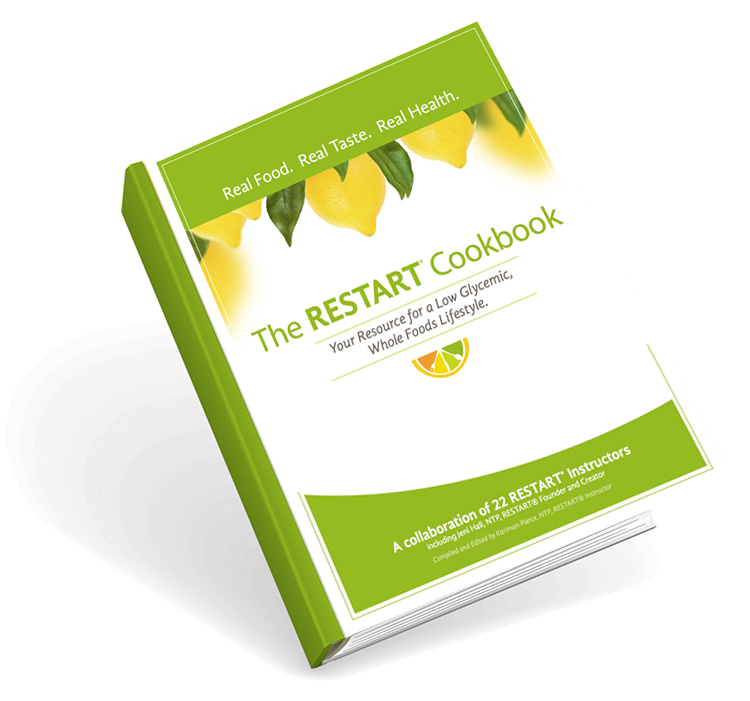 The RESTART® Program is the brainchild of Jeni Hall, a Nutritional Therapy Practitioner (NTP), certified by the Nutritional Therapy Association®. It was her own health issues that led her to study nutrition. The fact that she grew up eating what's known as the Standard America Diet (aka, "SAD") led her to have blood sugar issues. She understands, first-hand, the struggles with sugar.
As she began her nutritional work with clients, she noticed that many were in the same boat. She started a small group in which everyone went through a sugar detox together, guided by each other's support and her expertise. It was an instant success and thus The RESTART® Program was born. Since then, RESTART® has evolved into the proven program that it is today for the many people who want to feel better and receive accurate information about food, nutrition, and their own health.
Testimonials.
Pat K. Redmond, OR, RESTART® Participant:
Best thing I have done for myself in forever. 80% of my symptoms have improved and I've dropped a pant size. I feel amazing and I'm choosing to continue on with what I have learned. I'm 72 years old. Just goes to show you are never to old to learn.
Betsy G. Peterborough, NH, RESTART® Participant:
Just had my annual physical. Forty… count 'em… FORTY point drop in my cholesterol!!! My [A1C] sugar level dropped 30% and I'm down 8 pounds, too! I know I couldn't have done it without your support!
Heather S. Wilton, NH, RESTART® Participant:
Since I did The RESTART® Program I'm off of two medications; one for asthma and the other for acid reflux. I can't tell you how excited I am about this!
Kirsten D. Nevada City, CA, RESTART® Participant:
The RESTART® program was so simple, eye opening, delicious, motivating, supportive and educational. It has truly changed my life!
Tina T. Eugene, OR, RESTART® Participant:
I came to the RESTART® class just wanting to learn how sugar affects the body. I left class feeling better and with a ton of knowledge. It's a lifestyle change I can do. Stick with this class, you won't regret it.
Mindi V. Eagle River, AK, RESTART® Participant:
If you do nothing else for your health, do The RESTART® Program. If you want to feel better, more alive, more happy, more purposeful – allow your body the space and time it needs to heal you from the inside out.
Hurry! Space is limited.